Welcome to the ventilation newsletter. Updating you on important information on our fresh air energy recovery product, case studies on projects recently completed, new ventilation technologies and products we will be introducing, and the latest in local industry and international market directions.
Single rooms without roof space can now enjoy fresh air ventilation with heat recovery
Thursday 21st of June 2018
The Lossnay VL100 Single Room Fresh Air Ventilation System from Mitsubishi Electric combines Heat Exchanger Technology with Balanced Pressure Ventilation to ensure individual rooms have constant healthy, fresh, pre-warmed air.
Current building regulations now demand homes to be built more airtight as they are subjected to higher insulation standards. Unless fresh air is introduced into the airtight building envelope, this is likely to lead to stale air and moisture build up. When air is stale, moisture can settle in areas which are cooler such as carpets, windows and curtains, which can result in mould, mildew and damage to furnishings
So how do you introduce fresh air heat recovery ventilation in to rooms that do not have roof space to accommodate a traditional large bulky heat recovery ventilation system with extensive duct work?
The Lossnay Single Room Ventilation System features a compact wall mounted ductless design, specifically made for dwellings with no roof space to install a ducted system. It is quick and easy to install, and furthermore, maintenance such as filter cleaning is a breeze for the homeowner.
Starting at a low 25dBA, Lossnay provides a range of air volumes for each fan speed to achieve low noise operation.
Lossnay's unique Heat Exchanger collects up to 80% of the heat energy from the stale, outgoing air to pre-warm the cool incoming fresh air as it passes through the unique and patented permeable membrane core.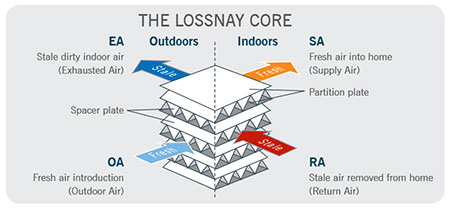 Therefore when the warm air enters the room the heating source doesn't need to work as hard to heat the incoming air, making the system super energy efficient.
By using fresh air from outside rather than stale attic air filled with dust and contaminants, Lossnay improves indoor air quality, ideal for asthma and allergy suffers without opening windows.
Emma Hutchinson, Business Manager for Domestic Ventilation Systems for Mitsubishi Electric in New Zealand explains the need for mechanical ventilation is increasing as homeowners become more conscious of health, noise and security.
"The need for ventilation is becoming more prevalent as we look for ways to make our homes as healthy as possible, while also getting the most out of our investment.
Lossnay Single Room Ventilation is perfect for homes as it's easy to install and maintain while providing homeowners with peace of mind they are breathing in fresh air from outside without having to open windows. By keeping windows shut, homes are kept fresh, secure and quiet while reducing moisture damage in rooms.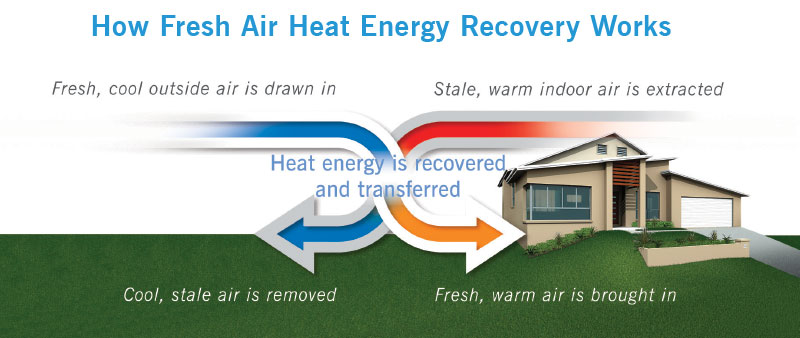 Older Articles
Whole house mechanical ventilation systems
Thursday 28th of April 2016
Whole house ventilation systems are increasingly being promoted as the solution to house
performance problems such as dampness and cold. However, they're also a very expensive item to install and you will want to be certain they will make a difference.

There are two types of system: Positive pressure or roof cavity systems; and Balanced pressure or heat recovery systems.
Healthy homes: Ventilation systems - do they work?
Thursday 21st of April 2016
If you want a true energy recovery ventilator for your home, a balanced system with a real heat exchanger is the only way to truly recover energy which is usually wasted, to warm or cool your home.

This is no more evident than in the findings of a comprehensive Otago University Report commissioned for EECA (Energy Efficiency and Conservation Authority), researching the heating and cooling potential of ventilation systems.
New Zealand Building Code Standard
Thursday 14th of April 2016
The New Zealand Building Code requires homes to ventilate using outdoor air to maintain air purity. Ventilation systems that draw air from the roof space and not directly from outside do not comply with ventilation standard NZS4303:1990 "Ventilation for acceptable indoor air quality". They cannot be used to comply with the Building Code Acceptable Solution for ventilation.