After a dessert that everyone will love? Treat yourself and your taste buds with a delicious homemade Chocolate Pear Cake from 5+ A Day Charitable Trust.
Fruit and chocolate is a mix that can't go wrong. Combining flavours of rich chocolate and fruity tartness, this will sure go down a treat! This is a perfect option for a dessert to enjoy after dinner with family and friends – or to have a slice to yourself with a cup of tea when you have a quiet moment.
Not only is this cake delicious, but pears are a source of vitamin C which supports immunity and fights fatigue.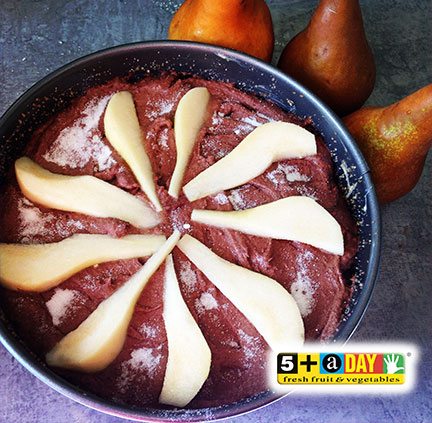 Chocolate Pear Cake
Serves: 8
Preparation: 10 minutes
Cooking: 45 minutes
Ingredients
4 buerre bosc pears
Juice of 1 lemon
1 1/4 cups flour
1/4 cup cocoa powder (dark)
1 1/2 teaspoon baking powder
3/4 cup caster sugar
1/2 cup ground almonds
3 eggs
1 teaspoon vanilla extract
150g butter, melted and cooled
1/2 cup milk (room temperature)
Method
Heat oven to 180°C.
Grease and line a 23cm round cake tin with baking paper.
Slice pears, placing them in a bowl and sprinkle with lemon juice to prevent browning.
Sift the flour, cocoa and baking powder into a large bowl. Add sugar, ground almonds, eggs and vanilla extract. Beat until smooth and then fold in the butter and milk.
Spread half the cake mixture over the base of the prepared tin and arrange half of the pear slices on top. Spread over the remaining cake mixture then arrange the remaining pears on top.
Bake for 45 minutes (or until a skewer is inserted into the centre of the cake comes out clean). Leave to sit in the tin for 15 minutes before removing. Serve warm with low-fat yoghurt or ice cream.