Introducing the New R32 Single Split SLZ Compact Ceiling Cassette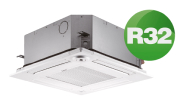 Wednesday 24th of June 2020
Compact and ultra-quiet, our range of ceiling cassette heat pumps are equipped with 4-way airflow and cutting edge control. They offer you the flexibility to keep your wall and floor space free without compromising on your comfort.

From May 2020, the ever-popular SLZ Compact Ceiling Cassette Range will be switching to R32 refrigerant.
Already ideal for home, office and commercial applications thanks to its stylish flat-panel profile and advanced energy-saving technologies, the introduction of next-generation R32 refrigerant makes the SLZ Series an even more efficient solution for concealed heating and cooling.
The physical design of the indoor and fascia remains unchanged, as do the many features that have made the SLZ Compact Ceiling Cassette so popular.
The 3D i-See Sensor intuitively moves airflow to wherever you are
This intelligent feature works to identify the floor temperature and how many people are present in the space; automatically switching to the optimal operating mode based on this information.
With a total of eight sensors, which rotate a full 360° in three-minute intervals, the 3D i-See Sensor is able to detect an occupant's position to provide direct or indirect airflow, as preferred.
When the 3D i-See Sensor recognises that the area is unoccupied, it switches to Energy-Saving Mode or Auto-Off, as set by the user.
With four Power Multi models to choose from, you can be assured that Mitsubishi Electric can provide the ideal solution for your Multi Room application needs.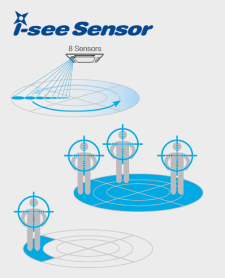 Stylish, slimline design that blends into any interior aesthetic
The SLZ Series' pure white colour and compact, linear profile is ideal for discreet heating and cooling. A recipient of the Good Design Award, the new SLZ Series fits into narrow ceilings with a height of only 245mm.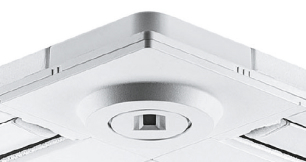 Horizontal Airflow directs air across the ceiling for ultimate comfort
The SLZ Series eliminates uncomfortable draughts and provides improved airflow control with six different angles. The lateral discharge channels ensure air is distributed evenly across the entire room for ultimate occupant comfort.
Low noise levels
The patented 3D turbofan with two-stage blade structure ensures low noise operation, for a quieter comfortable environment. Starting from a hushed 25dBA*, the sound level has been reduced by 2 to 4dB from the previous model.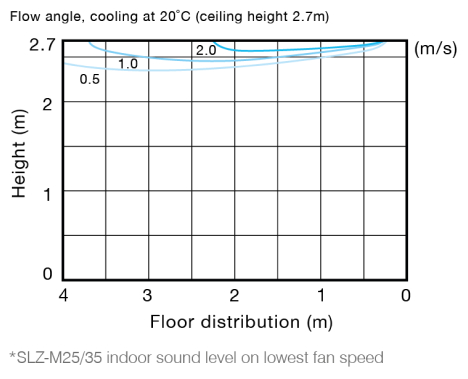 New Easy Installation
For improved efficiency during installation, the new PLA features a temporary hanging hook; no need to remove screws from the corner panel or control box, and a lightweight panel which has been reduced in weight by approximately 20% compared to the previous model. The electrical box wiring structure has also been redesigned to improve connectivity, and space has been increased for plumbing.
Introducing the P-Series 4-Way Ceiling Cassettes now with R32 Refrigerant
Friday 19th of June 2020
We all know the benefits of switching to R32 products – not only does R32 have a lower impact on global warming, it is also much more efficient. With this in mind, we are proud to announce the release of the R32 P-Series Range.

Ideal for both domestic and commercial installations, the P-Series Range of units provide a flexible heating and cooling solution.

The R32 range brings with it new outdoor units and a newly designed PLA 4-Way Ceiling Cassette with a host of innovative features. The rest of the range remains the same in terms of appearance and features, but now with R32 refrigerant, it is more efficient than ever before.

New Design
The PLA features a sleek, square design with bevelled edges that provide a compact and modern finish.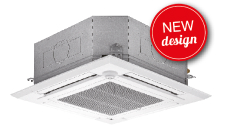 3D i-See Sensor as Standard
The new PLA comes standard with 3D i-See Sensor Technology.
The 3D i-See Sensor works to detect the floor temperature and how many people are present in the room automatically switching to the optimal operating mode.
With a total of 8 sensors which rotate a full 360º in three minute intervals, it is able to detect people's position in the room to provide direct or indirect airflow as preferred.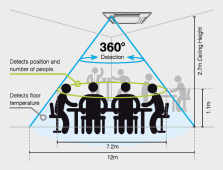 Horizontal Airflow Control
The Horizontal Airflow function prevents both cold draughts and/or heating airflow from striking occupants directly, thereby keeping people from becoming over-chilled/over-heated.

Wide Airflow
Deluxe PLA Series Cassettes utilise wide-angle outlets to distribute airflow to all corners of the room, ensuring the room is cooled/heated in an even manner.
Both Horizontal Airflow and fan speed have been reduced by 20% compared to conventional models, contributing to increased comfort for occupants.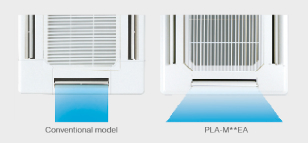 New Easy Installation
For improved efficiency during installation, the new PLA features a temporary hanging hook; no need to remove screws from the corner panel or control box, and a lightweight panel which has been reduced in weight by approximately 20% compared to the previous model. The electrical box wiring structure has also been redesigned to improve connectivity, and space has been increased for plumbing.
New Wireless Controller
With a backlit screen for easy viewing, and advanced feature controls exclusive to the PLA Series, including 3D i-See Sensor and individual vane settings, the deluxe wireless controller offers the ultimate in customised comfort.

Automatic Grille Lowering Function
An Automatic Grille Lowering function capable of stopping at eight different heights is available to simplify filter maintenance.
The packaged elevating (up/down) controller in the grille (PLP-6EAJ) can be used when outdoor unit is either PUZ Series or SUZ Series.
Wired Remote Controller (PAR) has Automatic Grille Lowering function. This function is only available when indoor unit connects with PUZ Series outdoors.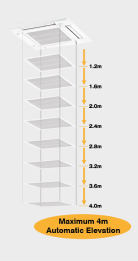 Other Features
An Automatic Grille Lowering function capable of stopping at eight different heights is available to simplify filter maintenance.
Stylish indoor unit vane covers (when unit is turned off)
Quiet operation with improved airflow path and powerful high-capacity flow fan
Maximum upward draining of 850mm
Deluxe Wireless Remote Controller option available
Duct flange for fresh-air intake
Branch duct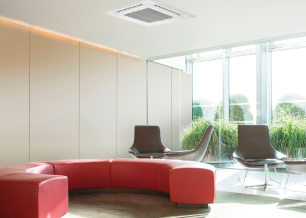 Hybrid VRF – The Advantage of Water
Friday 19th of June 2020
As BDT and Mitsubishi Electric grow into the new era of sustainability and environmental awareness, one thing has become very clear; systems comprising of water will play a large part in the transference of heat in the commercial HVAC market globally in the coming years.

Hybrid VRF (HVRF) bridges the gap between VRF / VRV solutions and heat recovery chiller plant, offering an alternative to common hydronic systems while still retaining the inherent benefits associated to the water-based options.
The HVAC market has been using water as a refrigeration and heating medium for many years, with chilled water being a safe, reliable refrigerant with a number of beneficial characteristics. Chillers, hot water heat pumps and 4 or even 6 pipe hydronic solutions have been utilised in large commercial buildings for many decades.
Simultaneous heating and cooling with full heat recovery
Heat recovery chiller systems are considered the crème-de-la-crème of HVAC solutions, incorporating the inherent efficiencies only possible through heat recovery with the comfort and security of water as the medium being circulated into occupied spaces. However, these have been a largely uneconomical option for small to medium scale applications.
The economic hydronic heat recovery solution
The Hybrid VRF (HVRF) product category bridges the gap between VRF / VRV solutions and heat recovery chiller plant, offering an alternative to common hydronic systems while still retaining the inherent benefits associated to the water-based options.
Hybrid VRF places itself in the market as an economic hydronic heat recovery solution which can be applied from high-end residential homes and the small commercial market right through to a large scale modular solution.
All the benefits of VRF with significantly lower global warming potential
With the adoption of global initiatives to reduce greenhouse gases and local legislative requirements with regards to occupant safety, HVRF provides design engineers and mechanical contractors the mitigation of risk associated with circulating refrigerants into occupied spaces. Furthermore it also reduces the potential global warming impact the larger refrigerant volume imparts; offering a saving on associated costs.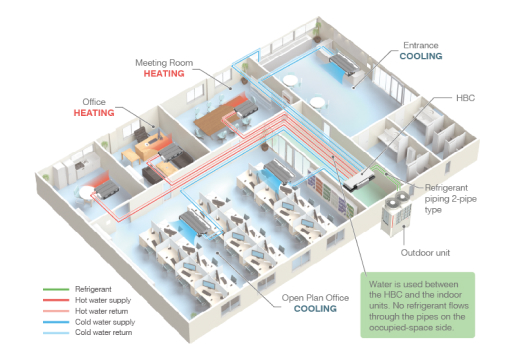 Hybrid VRF is the new VRF standard in New Zealand for both large and small applications
In the New Zealand market alone, BDT have seen a huge uptake of Hybrid VRF in the market. With over 5MW of heating capacity ordered to date across 42 projects Hybrid VRF applications are growing.
The largest Hybrid VRF project in the New Zealand market currently in construction incorporates 512kW cooling and 575kW of heating across 11 HVRF systems and is due for completion in FY21. This scale of project is a prime example of situations where a hydronic solution could have been applied however the HVRF alterative offered ease of construction, cost savings, modularity and redundancy reduction in the case of a mechanical failure.
Of course on the other hand, smaller systems can offer the benefits of hydronic architecture to projects that may be of a scale in which it is not economic to outlay the capital cost associated to a 4 pipe solution.
One such case is PGG Wrightsons Seeds wherein the developer Ngai Tahu was seeking to design a water-based system for their new building in Lincoln. The prerequisite was for a hydronic, water-based design for occupant comfort and safety reasons. In this instance, Hybrid VRF was the nominated solution to meet the hydronic requirements while offering the installation advantages of a modular VRF system.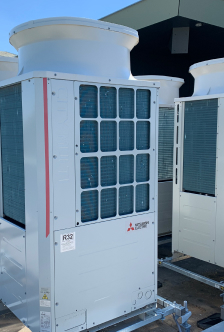 HVRF key benefits
Minimise the need for leak detection systems
In commercial buildings, additional leak detection systems specific to air conditioning are often installed to safeguard occupants due to increasing safety regulations. This affects hotels in particular, where air conditioners are installed in the room space and occupant safety is critical.
A leak detection system is designed to trigger an alarm if refrigerant was to leak into the room space and initiate an evacuation of the area to try and prevent harm to the occupants. These systems can be expensive and add to the cost of design, build and maintenance.
Flexible design and modularity allow for a manageable phased installation
The small footprint and modular design means building owners can now take advantage of a manageable phased installation.
Regulated phase down of CO2 emissions
GWP is a measure of the global warming potential as compared to CO2 which has a unitary GWP of 1. R32 refrigerant is zero ozone depleting (ODP)and has a GWP 66% less than R410A. For example R410A will hold 2,088 times more heat when released in the upper atmosphere than the equivalent amount of CO2 would.
R32 refrigerant is being adopted by Mitsubishi Electric as an important step in the process towards the ultimate goal of a zero ODP, zero GWP, efficient, safe, and non-toxic refrigerant.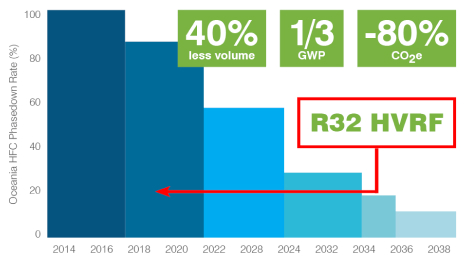 Product Focus - Climaveneta INTEGRA Chiller
Friday 12th of June 2020
Climaveneta INTEGRA sets a new standard in the more environmentally friendly, simultaneous generation of heating and chilled water by combining the functions of a traditional boiler and chiller within a single unit.

Starting at around 44kW and with the option of integrating with a +2P Module, INTEGRA also allows for the production of high-temperature hot water up to 78°C.

INTEGRA is ideal for a variety of large-scale applications
Delivering high energy efficiencies, maximum integration and total reliability for year-round comfort, INTEGRA is perfect for hotels, hospitals, offices and shopping centres which have a high demand for heating and chilled water.
Simultaneous generation of heated and chilled water – all in one system
With the ability to produce cooling and heating capacity simultaneously from a single unit, you no longer need to install multiple machines to deliver effective hot and cold water.
Year-round heating and cooling you can count on
In modern buildings characterised by opposite overlapping loads, INTEGRA represents the most advanced solution. INTEGRA guarantees comfort throughout the year independently and with maximum efficiency. Its construction philosophy has been designed to maximise the full effect of the unit in all working conditions, and especially in the case of simultaneous heating and cooling.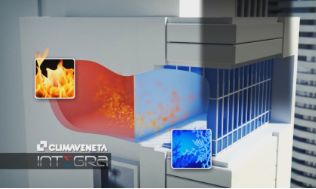 Next-generation energy efficiency with heat recovery technology
INTEGRA utilises advanced heat recovery technology to lessen energy consumption and operating costs. This is achieved by taking the heat energy from an area which needs to be cooled and heats areas that need to be warmed, so the system doesn't need to work as hard to reach the desired temperature.
Climaveneta helps decrease your building's carbon footprint
With the use of efficient technology such as heat recovery, this solution supports progressively more challenging regulatory restrictions about the environmental impact of the building. INTEGRA respects the environment and may help increase the value of the property.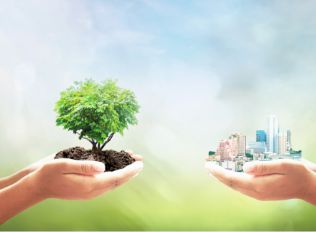 Minimise initial investment and maintenance costs
By producing hot and cold water with the single unit, INTEGRA compares favourably with the more traditional combination of separate chiller and boiler. This also lowers initial investment and maintenance costs.
A smaller plant size to enhance the building's usable space
The plant room spaces and site operations are reduced, with substantial savings in terms of time and cost. INTEGRA satisfies the most daring architectural solutions and ensures optimum use of the building.
Designed to maximise efficiency at partial load
All air conditioning systems, as well as INTEGRA units, are normally selected to cover the peak load. This means that for most of the year units are operating at partial loads. For multi-purpose systems, this condition can occur more than 8,000 hours annually.
This is the reason why INTEGRA ensures maximum efficiency at partial load; a design focus that stems from the awareness of the real operating conditions of the unit and is accentuated in models with inverter technology – the exclusive i-FX-Q2 unit.
INTEGRA – the ultimate solution for any environment
INTEGRA Systems are derived from Climaveneta's long experience proven by over a thousand prestigious projects from all over the world.
Located at many different latitudes, all the installations share high energy efficiency, maximum integration and total reliability. All this as a result of the unique Climaveneta experience.
For more information about Climaveneta INTEGRA, click here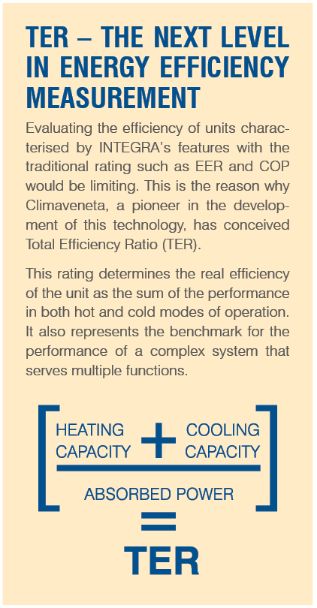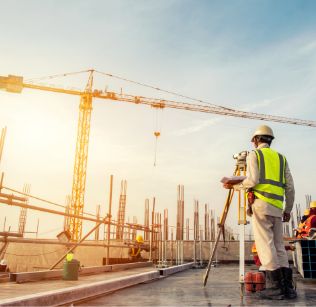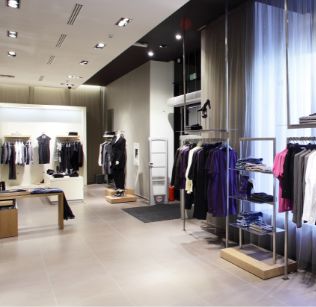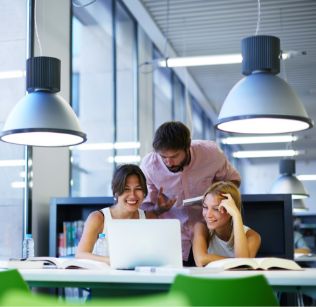 The Black Diamond LN Series – it's our best heat pump ever!
Thursday 11th of June 2020
With a sleek reflective finish and a wide range of advanced features, the Black Diamond Series sets the benchmark in the evolution of heat pump design.

Energy Saving 3D i-See Sensor
For the ultimate in customised heating and cooling, the 3D i-See Sensor analyses the temperature profile of the room and occupants' location; providing features such as Indirect or Direct Airflow, Even Airflow, and Auto-Off or Energy Saving Mode when the room is unoccupied, as set by the user.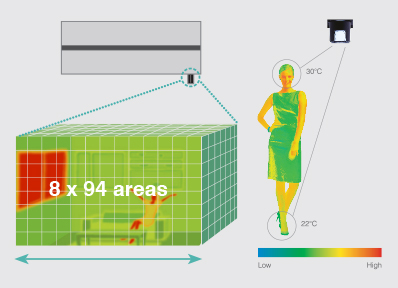 Dual Split Vane Technology
The Dual Split Vane design enables various airflow patterns to be achieved; ensuring each person in the room is comfortable. With both horizontal and vertical vanes able to move independently, airflow can be directed in various directions, even to opposing sides of a room. Combined with the 3D i-See Sensor, truly personalised comfort can be achieved.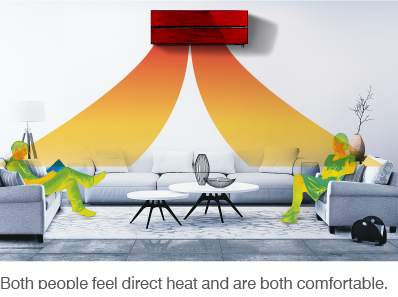 Dual Barrier Coating Maximises Energy Efficiency
The patented and world's first Dual Barrier Coating from Mitsubishi Electric prevents dust and dirt from accumulating on the inner surface of the indoor unit; keeping your heat pump clean year-round.
This minimises the worsening of energy efficiency and air volume, and also ensures there is no dirt build-up that can typically create unpleasant musty odours.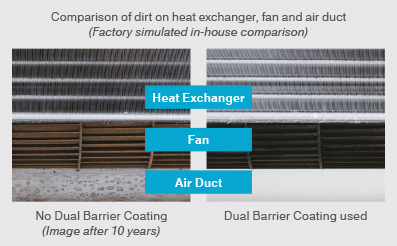 Advanced Plasma Quad Plus Filtration
The new advanced Plasma Quad Plus Filtration System, featuring high-performance two stage plasma technology, filters the air to clean away smells, dust, moulds and other common household allergens.

Reflect Your Design Personality
Featuring a striking flat panel design, the Black Diamond Series is available in three unique reflective colour finishes – White Diamond, Red Diamond and Black Diamond - that change de-pending on the light in the room.
Now you can make a real interior design style statement with your heat pump colour choice.
Built-in Wi-Fi Control
For the ultimate in aesthetics and ease of installation, the Black Diamond Series comes equipped with a Wi-Fi Interface inside a hidden pocket in the indoor unit. With Wi-Fi Control, users will always return home to total comfort.
And because our Wi-Fi Control is now also Amazon Alexa and Google Home enabled, you can take your comfort to the next level and enjoy hands-free heat pump control.

HyperCore Technology
The Black Diamond Series is designed to provide powerful heating, even on those freezing cold days.
The LN25–50 come standard with Hypercore Technology, for New Zealand's best heat pump performance in cold conditions. Providing its fully rated capacity right down to -15°C, and guaranteed heating performance down to -25°C, the Black Diamond Series ensures your room heats up fast and stays warm when you need it most.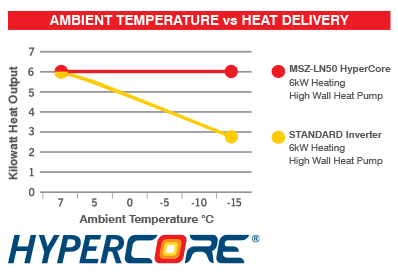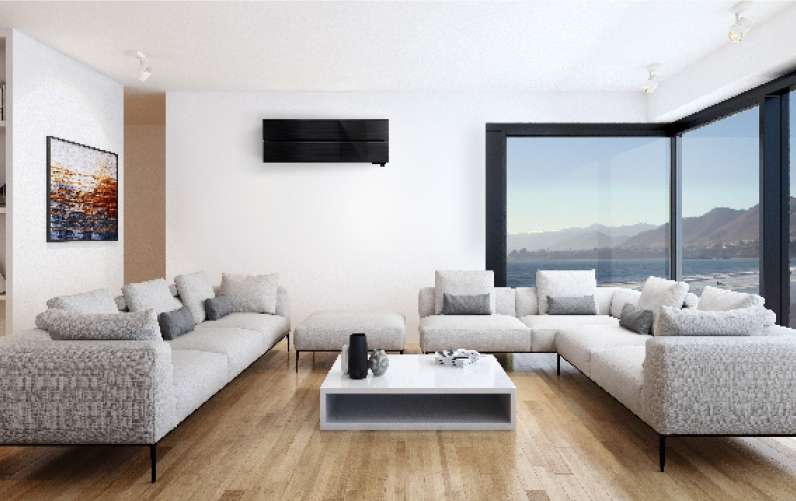 For more about the LN Black Diamond Series, click here
Climaveneta i-BX Hydronic Air to Water Chillers and Heat Pumps - the next level in small chilled water and hot water heating efficiency
Wednesday 3rd of June 2020
The i-BX Hydronic Air to Water Chiller and Heat Pump Series features superior efficiency, flexible design and advanced control. The range is ideal for residential or small commercial applications.
Key Features
The i-BX Air Cooled Chiller for commercial chilled water
With capacities from 4.3kW to 35.1kW, the i-BX Air Cooled Chiller comes in cooling-only for commercial applications. Featuring advanced inverter technology, these units achieve an average SEER of 4.53.
The i-BX has a large operating field, with full-load operation guaranteed between -10°C to 45°C outdoor air. Correspondingly the unit can produce chilled water with evaporator outlet temperatures from -8° to 18°C.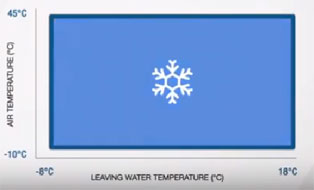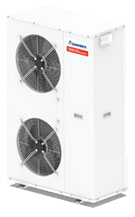 i-BX-N Air Sourced Heat Pumps designed for residential or small commercial use
The range offers capacities from 4.2kW to 35.1kW. Furthermore, Mitsubishi Electric inverter compressor technology ensures greater energy efficiencies are able to be achieved, resulting in an average SCOP LT35°C of 3.80, SCOP ML55°C of 2.95 and SEER of 4.40.
This system can produce hot water up to 60°C and is ideal for any heating terminal; perfect for residential or small commercial applications.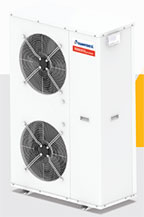 Packaged monobloc format for easy installation
Both the i-BX and i-BX-N models come in a packaged monobloc, ready-to-install arrangement. All hydraulic components such as the EC pump, expansion tank, safety valve, air bleed valve and flow switch are already included in the unit for simple application in any plant space.
Next-generation compressor technology for advanced efficiencies

Synonymous with Mitsubishi Electric's quality and reliability for high performance, the i-BX Range boasts high seasonal efficiency at partial loads thanks to the modulation of the compressor with DC inverter technology. Therefore, the unit provides the exact thermal power in correspondence with the actual needs of the building and reduces energy consumption.
Variable fan speeds for greater energy savings
With the benefit of variable fan speeds, energy usage in the system is lowered. The dynamic control of the water supply temperature according to the outdoor air temperature greatly increases the comfort and energy efficiency of the system.
Furthermore, the i-BX Series features condensation control for an extended operating range.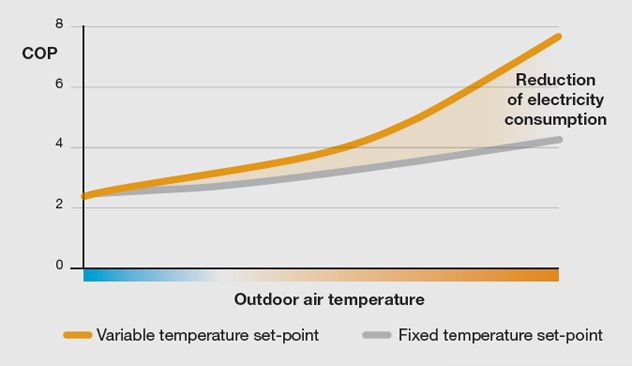 Low-noise operation for quiet comfort

Noise levels are also decreased by modulating the fan speed and frequency of the compressor.
The compressor is also installed on rubber anti-vibration mounts and is soundproofed by special sound-absorbing material.
Electronic Expansion Valve (EEV) as standard for efficient performance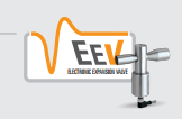 The EEV enables the refrigerant flow to be optimised, effective temperature control and fast regulation which results in high efficiencies. In addition to this, the wide control capacity allows the compressors to always operate in optimal conditions and expand its operating limits.
Water pump with EC Motor for top-level performance
Featuring advanced water pump technology with an EC motor, commissioning is simplified and reduced operating costs can be realised.
NadiSystem ensures smart plant management

The i-BX Range uses NadiSystem Controls to effectively monitor the plant components. This advanced system ensures the easy integration between different heating sources based on availability, performance and costs of their use – favouring renewable sources.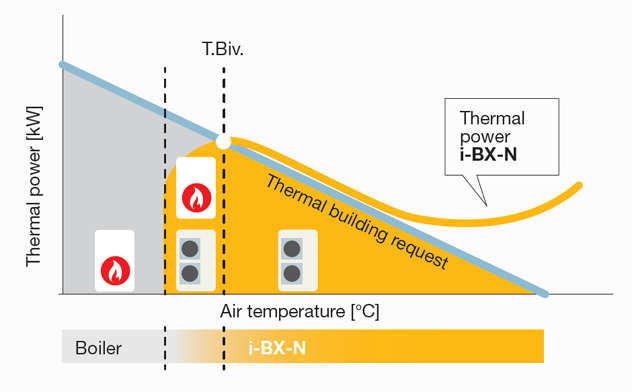 The auxiliary sources are used to meet the building's needs at low outdoor temperatures by integrating the heating capacity of the heat pump.
NadiSystem allows customised control for optimum comfort
This system also features special functions for perfect customisation such as the ability to set the water setpoint with fixed or dynamic value with the climatic curve, anti-freeze protection depending of the water temperature and outside air temperature, and weekly programming up to 6 timeslots.
In addition to this, digital input for Night Mode and the remote connectivity to BMS systems via serial card accessories is also enabled.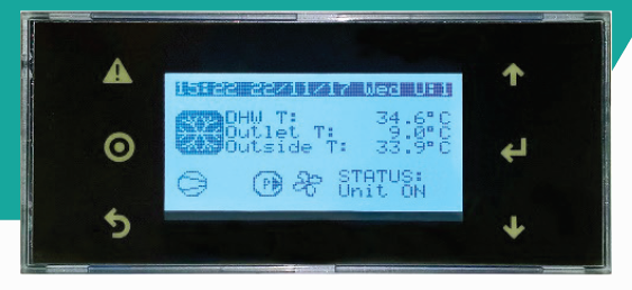 Ability to cascade units for maximised capacity
With the benefit of NadiSystem Cascade Control, up to four units of the same power can be connected in cascade to make up 36.5kW – 146kW capacity where the thermal requirements are high.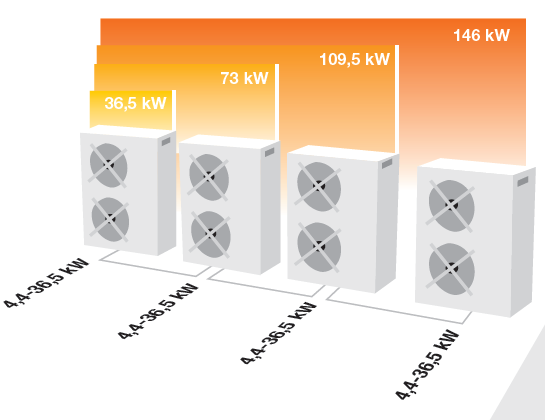 The configuration is managed in master / slave mode, with the master unit that takes care of processing the information and transmits it to the slave units.
For more about the i-BX Range of Air Sourced Chillers and Heat Pumps, watch the video below.
Outdoor space at a premium? Enjoy a clutter-free exterior with the Single Fan PUMY-SP Power Multi Series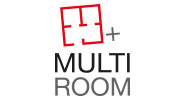 Tuesday 2nd of June 2020
As urban areas become more densely populated, a building's outdoor space is often at a premium. So, the need for outdoor units to offer design flexibility in a small footprint is growing.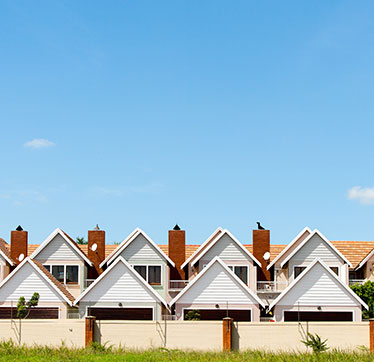 The new Single Fan PUMY-SP Power Multi Series from Mitsubishi Electric features a more compact outdoor unit, making the range the ideal solution for applications where outdoor space is limited. These systems are quiet and flexible with the ability to provide highly efficient heating and cooling for up to eight rooms.
With a single fan design, this system has a low height profile and a lightweight, compact design. In fact, these new models have been designed to be more compact than the previous MXZ-8C Power Multi models, making them ideal to fit into narrow outdoor spaces found in high-end homes, apartments, offices and other light commercial applications. As a result, installation is easy while outdoor spaces remain uncluttered.
New PUMY-SP80 added to the Power Multi Series Range
The new PUMY-SP80 (9.0kW cooling, 10.0kW heating) has been added to our already successful single fan Power Multi Series Range. With a small footprint and the added flexibility to connect up to five indoor units as part of a Multi Room System, the PUMY-SP80 is perfect for medium to large-sized high-end homes and offices.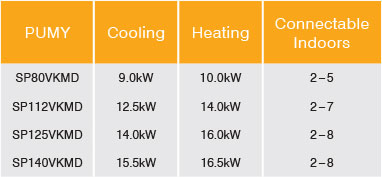 With four Power Multi models to choose from, you can be assured that Mitsubishi Electric can provide the ideal solution for your Multi Room application needs.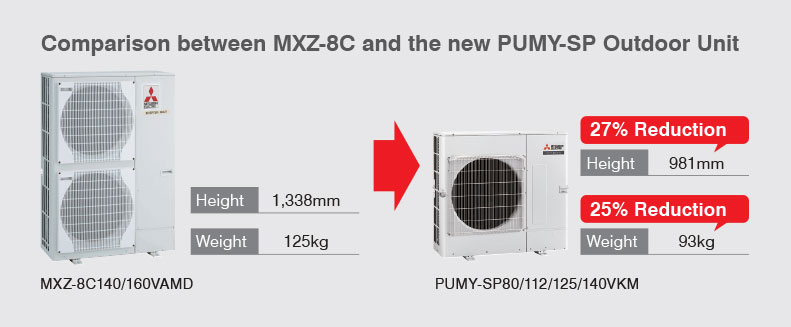 Power Multi Series Options and Benefits
Energy Saving with High COP

Superior energy efficiency with high COPs over 4, so you get over 4kW of heat energy output for every 1kW of power input.

Flexible Installation Possibilities

With an external static pressure of 30Pa, the PUMY-SP Power Multi Series can be installed in a wide range of locations such as on balconies, in high-rise buildings or areas near louvres, where space is at a premium.

Compact Size

The compact size also allows installation in locations that would otherwise be unsuitable. With piping pull-out locations in four directions, the pipework is easily accessible. Additionally, the longer pipe runs of up to 120m total max length ensure greater flexibility with piping layout.
Guaranteed Heating Down to -20°C

The PUMY-SP Power Multi Series guarantees heating performance right down to -20°C outdoor temperature, so you stay warm even on the coldest winter days.

Super Silent Mode*1

The noise level of the outdoor unit can be reduced by up to 10dBA, allowing the system to operate during the night in a residential zone without disrupting the neighbours.

3 Phase Models

Available on request.

Salt Protection Models

Available on request, providing additional treatment to the outdoor unit for homes located near the sea or exposed to salt spray.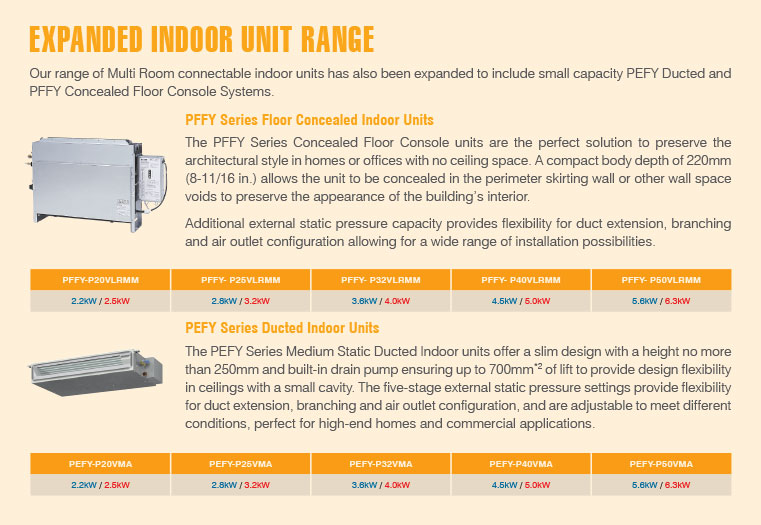 *1 Available in Cooling Mode only. A PAC-SC36NA connector is required to enable Super Silent Mode.
*2 Up to 550mm for grouped piping
New City Multi R32 Hybrid VRF Delivers a System with a GWP 66% Less Than Existing R410A VRF Solutions.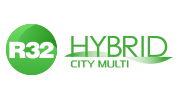 Thursday 28th of May 2020
With the pressure on R410A refrigerant increasing, Mitsubishi Electric's commitment to reducing the environmental impact of air conditioning has seen the introduction of New Zealand's first VRF (Variable Refrigerant Flow) solution that has adopted R32 refrigerant.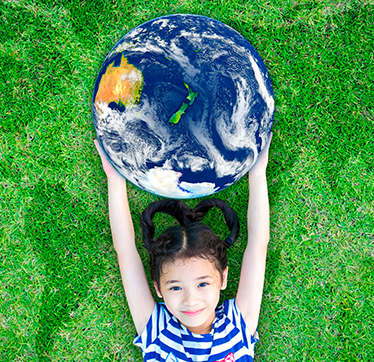 R32 Hybrid VRF is the world's only low GWP 2-pipe hydronic heat recovery system
Mitsubishi Electric has long been a leader in the world of air conditioning and the world's first R32 Hybrid VRF Product Range again puts the company at the forefront of the industry.
Hybrid VRF utilises low GWP refrigerant R32, providing a real solution that delivers high operational efficiency whilst minimising the Global Warming Potential of the refrigerants used within these systems.
Having already introduced R32 refrigerant across its residential M-Series and commercial P-Series Split System Ranges, it was only a matter of time that Mitsubishi Electric tackled the VRF / VRV market with a solution that also adopted a low GWP refrigerant like R32.
The Mitsubishi Electric R32 VRF Solution is an evolution of Mitsubishi Electric's Hybrid VRF System. First introduced in 2014, this unique 2-Pipe Hybrid VRF System combines VRF and chiller technologies using water throughout the majority of the pipework to efficiently transfer simultaneous heating and cooling to different rooms.
Water instead of refrigerant is at the heart of the indoor units
By using water as the heat transfer medium for the majority of the air conditioning system, Hybrid VRF reduces the overall amount of refrigerant in the system. Furthermore, with only water connecting the branch box to the indoor units, Hybrid VRF minimises the need for expensive leak detection leading to significant reductions in on-going maintenance costs in the controlled space that would be needed to comply with AS/NZS 5149 (1-4) 2016.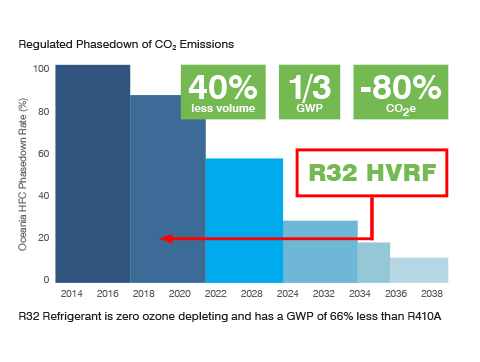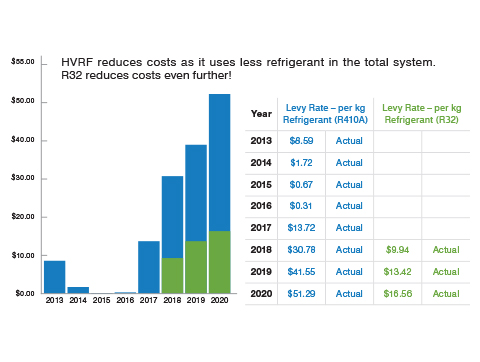 All the benefits of VRF with significantly lower Global Warming Potential
The 2-Pipe Hybrid VRF System offers the same comfort levels normally associated with 4-pipe fan coil systems. In addition, consultants and end-users will appreciate the same design flexibility, operational efficiency and advanced control that Mitsubishi Electric traditional VRF is renowned for.
In short, the addition of R32 to the Hybrid VRF Range brings all of the benefits of VRF air conditioning in R32 format to deliver a system with a significantly lower Global Warming Potential (GWP) than existing solutions. In fact, the shift from R410A to R32 refrigerant realises a massive 66% reduction in Global Warming Potential.
The complete solution for today's modern buildings
Over the last 5 years, Hybrid VRF applications have already enjoyed significant growth in New Zealand. These systems have been successfully incorporated in a variety of designs ranging from offices, hotels, retirement villages, education facilities, medical centres and much more.
Combat the rising costs of R410A refrigerant
With the phase-down of HFC gasses, particularly effecting R410A from next year, the introduction of the new R32 Hybrid VRF Range now provides the obvious answer for those customers looking for a future-proof heating and cooling solution that delivers advanced efficiency with improved corporate social responsibility and minimal environmental impact.
R32 Hybrid VRF is the new VRF standard
R32 Hybrid VRF is the new era of VRF in the market. Mitsubishi Electric has strived to design a system which not only meets the legislative requirements being imposed on the market today but also meets the future requirements that our market will have to adhere to.
The demand for high energy efficiencies, low Global Warming Potential and improved corporate social responsibility is increasing. As a result, regardless whether operating on a global, national or regional basis, all businesses are being forced to look at their own buildings and how their decisions on capital plant will impact them over the lifespan of the product. As such, R410A systems are becoming less viable with the cost of refrigerant increasing, with R410A cost per kilogram climbing rapidly based on the high GWP and the ETS Tax imposed.
The future-proof solution to meet changing environmental demands and corporate responsibility
As business owners, design engineers, installers and suppliers of HVAC systems in New Zealand, it is our duty to provide the developers and building owners a robust future-proof solution to best suit their building and occupants needs. It is also imperative we observe occupant safety and ensure our decisions will not have a lasting impact on our environment for the future.
BDT and Mitsubishi Electric are dedicated to leading the market with innovative products and initiatives which ensure our social corporate responsibilities are upheld; protecting ourselves, our stakeholders and the public.
For more information on R32 Hybrid VRF Technology visit: mitsubishi-electric.co.nz/hvrf/

Introducing the New Range of Ultra-Quiet Ecodan Hot Water Heat Pumps
Friday 15th of May 2020
Everyone knows how distracting a loud humming indoor unit can be. So in our industry, we commonly refer to how noisy a heat pump is based on the indoor unit sound levels. However, what is often overlooked is the sound level of the outdoor unit. Housing the compressor, it has the potential to create a significant level of unwanted noise.
High-density housing and noise levels
Mitsubishi Electric has always been at the forefront of improving technology including sound levels, to meet the ever-changing need of consumers. So it should come as no surprise that with the rapidly changing urban landscape to more high-density housing, Mitsubishi Electric has now specifically tackled outdoor sound levels.
Three times quieter than previous models
Ecodan has always been one of the quietest hot water heat pumps on the market. And with the introduction of the new ultra-quiet Ecodan Range, it has taken hot water heat pumps to the next level. These new models offer superb style, market-leading energy efficiency and sound levels. Designed especially for residential applications, the 6.0kW, 8.5kW and 11.2kW units are 3dBA quieter than previous models.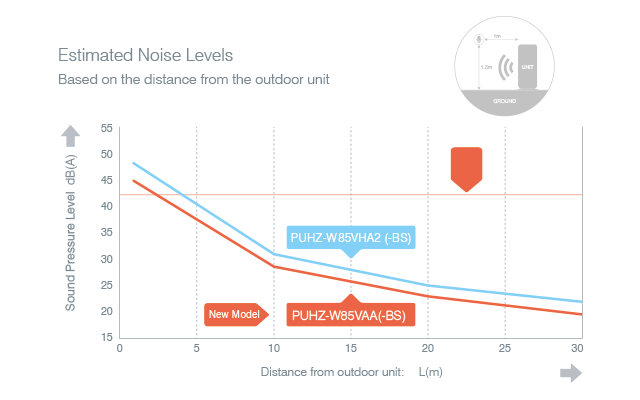 Flexibility with outdoor unit placement to keep neighbours happy
With higher density housing becoming more common in New Zealand, quiet outdoor operation is important especially if you want to keep your neighbours happy.
The new Ecodan Range features an industry-leading sound pressure level of 45dBA*, measured at a distance of 1m.
As a result, the system offers greater placement flexibility as the outdoor unit can now be located much closer to property boundaries. This makes the Ecodan Hot Water System ideal for areas sensitive to outdoor noise without disturbing the neighbours.
Our market-leading Ecodan Hot Water Heat Pump solutions are designed to provide a home with ultra-quiet, hot water heating and space heating with year-round energy efficiency and reliability.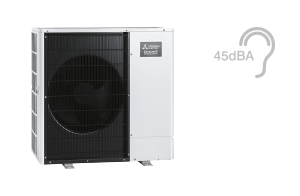 For more information on Ecodan Hot Water Heat Pump Systems contact:

Jon Leyland
National Sales and Product Manager – Hot Water & Ventilation
021 599 704
jleyland@bdt.co.nz
Introducing Replacement and Pipe Reuse Technology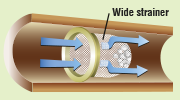 Tuesday 10th of September 2019
As part of its Core Environmental Policy and commitment to the restoration of the global environment, the Mitsubishi Electric new R32 line-up now features Pipe Reuse Technology.
This unique technology allows for the replacement of old, inefficient R22 systems (which are now phased out) with new, low-GWP R32 heat pump systems without having to replace the existing pipework of the old system but rather, reuse the pipework and wiring to make way for the new R32 system.