Because it actually works as a neutral tone, more and more consumers are gravitating to black as it works well with most other colours, finishes and design styles. Whether you are looking to make a strong bold contrast statement against lighter elements, or blend in with darker tones, black appliances will easily complement the desired look.
As the refrigerator is such a key focal point in the kitchen, the designers at Mitsubishi Electric have created a range of models so there is a black option no matter the kitchen size. From a compact fridge to match a small apartment, to a large capacity French Door design to take pride of place in an entertainer's kitchen, there is a model to suit. With Mitsubishi Electric black fridges coming in both glass and stainless finishes, you also have the choice to find one that fits in best with the aesthetic of your kitchen.
Black Refrigeration Models from Mitsubishi Electric
The new Large Capacity CX Two Drawer Series is now perfect for the modern kiwi lifestyle. With a flat panel design in Black Stainless or Glass Black, Inverter Technology, and a width of 700mm – this fridge is big enough to fit a week's worth of shopping!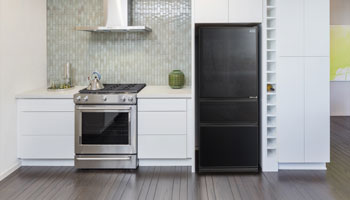 The Classic CX Two Drawer Series sets a new standard in refrigeration. Featuring a stunning flat panel design in either Black Stainless* or Glass Black, and with advanced functionality, the Classic CX is the ultimate fridge for small to medium-sized households.
*Classic CX Black Stainless only available at selected retailers.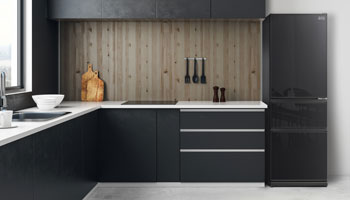 The LX French Door Series is a true style statement. Including a luxurious glass design, touch panel controls and advanced whisper quiet energy efficiency - the LX model with 630L capacity offers unparalleled space and convenience.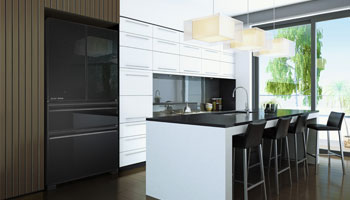 Black Items to Match Your Kitchen Aesthetic