Winter sees us turning to meals like soup to help stay warm during the colder months. Leeks are a great ingredient to add due to its mild flavour and texture. Having the benefit of being able to pair leeks with numerous different foods makes them an easy way to add more green to your diet.
A classic match for leeks is potatoes, so this Leek and Potato Soup from 5+ a Day will be sure to keep you cosy on those chilly days. With only a total of 30 minutes cooking time needed, this is the perfect solution for a healthy, quick and easy meal for you and the family.
Leeks are a source of dietary fibre which aids digestion and they contain potassium which is important during growth and development, so perfect for children!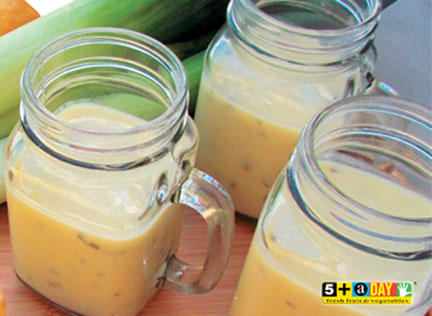 Leek and Potato Soup
Preparation: 5 minutes
Cooking: 25 minutes
Ingredients
2 leeks, sliced
3 potatoes, peeled and chopped
2 tablespoons olive oil
4 cups salt-reduced chicken stock
2 cups trim milk

Method
Place potato, leek and oil in a large saucepan and sauté until softened.
Add stock and simmer on low-medium heat for 15-20 minutes or until vegetables are tender. Purée (optional).
Add milk, gently heat but do not boil.
Garnish with Italian parsley or similar and serve.