Although lemons are available all year round from imports, the warmer months of the year welcome back New Zealand's season for lemons. With spring now here, it's time to get excited about the sunnier days heading our way and the surge of citrus flavours in our food.
One way to treat yourself to a lemon-infused dish is by mixing them in your pancakes. This 5+ A Day Lemon Pancakes recipe is easy to follow and takes no longer than 20 minutes to make, so even the kids can help out in the kitchen! Complete the meal with a cup of coffee and you've got the perfect weekend breakfast.
Lemons are a good source of Vitamin C which helps fight fatigue and boosts the immune system, which is particularly helpful during this time of year with the change of season.
Remember to keep your lemons fresher for longer by refrigerating them in sealed plastic bags.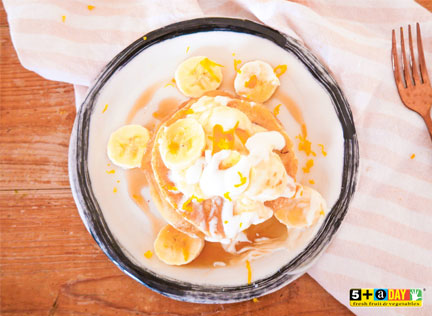 Lemon Pancakes
Serves: 2
Preparation: 5 minutes
Cooking: 15 minutes
Ingredients
Juice and zest of 1 lemon
2 bananas
2 eggs
½ cup flour
½ cup oats
4 tablespoons milk
½ teaspoon cinnamon
¼ teaspoon baking powder
1 teaspoon olive oil or coconut oil
Toppings: 1 banana, maple syrup, yogurt and lemon zest
Method
In a blender mix the lemon juice, lemon zest, bananas, flour, eggs, oats, milk, cinnamon and baking powder.
Heat a skillet or fry pan on medium heat and add 1 teaspoon of oil. Once the oil has heated, pour ¼ cup of the mixture into the pan.
Cook until bubbles appear on top. Flip pancakes and cook until golden brown on underside. Repeat until all the batter has been used. Serve with toppings of your choice.